OTP Tickets Travel Card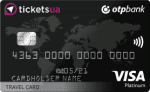 OTP TICKETS TRAVEL CARD!
Up to 99% off travels
Benefits of Tickets.ua
7 years of experience and 15 countries We are the leaders of the online travel services market in Ukraine since 2009, we successfully work in 15 countries of the world.
Security All online payments are secured by SSL, secure payments are compliant with internationally accepted PCI DSS security standards.
User trust More than 10,000 users buy tickets every day through our service.
Support The staff of our call center is ready to help you 24 hours a day, 7 days a week.