OTP Tickets Travel Card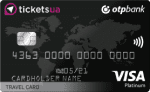 OTP TICKETS TRAVEL CARD!
Up to 99% off travels
Benefits of Tickets.ua
7 years of experience and 15 countries We are the leaders of the online travel services market in Ukraine since 2009, we successfully work in 15 countries of the world.
Security All online payments are secured by SSL, secure payments are compliant with internationally accepted PCI DSS security standards.
User trust More than 10,000 users buy tickets every day through our service.
Support The staff of our call center is ready to help you 24 hours a day, 7 days a week.
Buy train tickets to European destinations online
If you wish your travel around Europe to be fast and comfortable, we recommend that you use our online booking service. We offer cheap tickets to all domestic European destinations, reasonable prices, convenient and simple process of buying tickets. Our team will make your travels as comfortable as possible. We will help you book a train ticket to any European destination, answer all your questions, inform you about all changes in the schedule. Our operators will do everything to make your trip safe and pleasant.
Search of train tickets to Europe
The railway.tickets.ua website simplifies the process of buying train tickets to Europe. It is easier to buy tickets with us: just a few clicks, and all necessary travel documents will be forwarded to your email. You can find all the routes according to your request, check the availability of seats on trains to the European destinations, view their cost, check the departure date (especially if you book a night train ticket), find the desired station. The European railway network provides such types of trains as high-speed, fast, suburban, regional, sleeping. You can choose any fare and also take advantage of special offers from carriers.
European Rail Carriers
There are many offers from all possible European providers:
– Eurostar (routes in Belgium, France and the UK);
– BRITRAIL (the UK);
– Scandinavian Rail (routes in Sweden, Norway, Denmark, Finland);
– Trenitalia (routes in Italy);
– Thello (connects cities of France and Italy);
– EuroNight trains (night trains from Vienna and Rome to Italian and Austrian cities);
– Renfe (routes in Spain);
– Arlanda Express (Sweden);
– SNCF (departs from France to any destination of the continent);
– THALYS (has a wide route network in France, Belgium, the Netherlands, Germany).